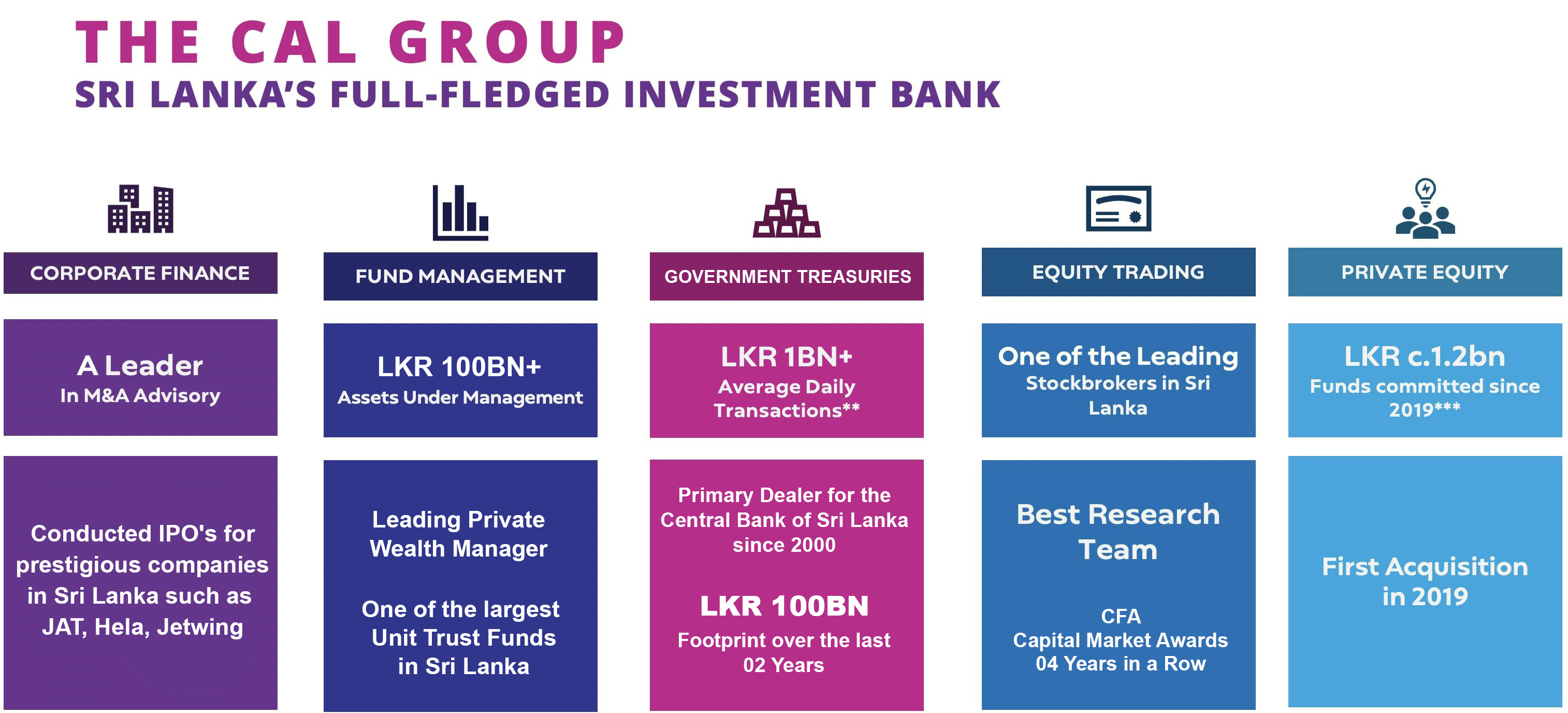 *Debt raised includes both listed and unlisted debt
**Calculated based on the last 3 years average
***Total funds committed over 2 transactions: with the 1st transaction complete and the 2nd transaction currently in negotiation stages
THE CAL GROUP

SRI LANKA'S FULL-FLEDGED INVESTMENT BANK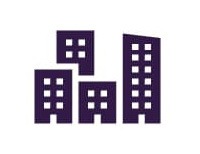 LKR 74bn
In Debt & Equity
Issuances over the Last 02 Years*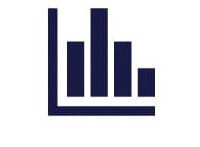 Rated by fitch –
CAL Investment Grade Fund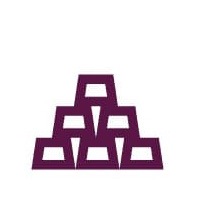 LKR 1bn+
Average Daily
Transactions**
Footprint over the Last
02 Years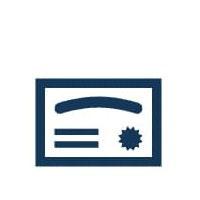 One of the Leading
 Stockbrokers in
Sri Lanka
CFA Capital Market
Awards
3 Years in a Row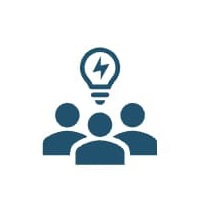 LKR c.1.2bn
 Funds committed since
2019***
First Acquisition in
2019
*Debt raised includes both listed and unlisted debt
**Calculated based on the last 3 years average
***Total funds committed over 2 transactions: with the 1st transaction complete and the 2nd transaction currently in negotiation stages
CAL's Historical Progression
The main feature of CAL's evolution over the past two decades has been consistent growth, on the basis of our broadening of industry-specific competences and diversification of investment solutions. Today, we have made our mark and gained industry-wide renown as a leading full-service investment bank in Sri Lanka, while actively harbouring a vision to be the 'The No. 01 Investment bank in Frontier Markets'. Upon commencing our operation in October 2000, we've gradually proceeded to specialize in originating, trading, and investing in debt and equity securities, with a keen focus on superior execution, research and product innovation.
During CAL's early years, it maintained a steady focus on securing corporate clientele while parallelly developing the retail aspect of the business. As a result of this traditional marketing approach, CAL has been able to develop a highly sought-after group of corporate clients over the past 17 years. This is a factor that has contributed heavily to the company's present stature and success.
Capital Alliance Limited first entered the market in the year 2000 as a registered debt dealer. Thereafter, it was appointed as a registered primary dealer by the Central Bank of Sri Lanka in 2003. CAL has asserted itself as one of only five non-bank licensed primary dealers in the country, and this standing authorizes the company to distribute fixed income government securities to all investor categories including individual, corporate and institutional investors in Sri Lanka.
With CAL's gradual evolution into a progressive, multi-faceted investment company, it now offers a sophisticated selection of structured, government debt-based investments. It offers clients unparalleled flexibility in choosing from an array of conventional debt instruments or in opting for a structured, bespoke investment solution. CAL's numerous investment options are specifically designed to suit the specific requirements of its diverse clients across the spectrum, from individuals to corporates.
Further, the extensiveness of CAL's captive fund portfolio for treasury bills and bonds guarantees that clients can readily secure their borrowing or lending requirements, either overnight or for a stipulated period of time. We rely on a foundation of confidence, perseverance, and strength to assuredly handle the challenges resulting from increasingly complex financial markets. CAL's resolve and innovative nature in the face of a more demanding investment banking market have brought it much recognition and acclaim.
In the year 2016, CAL won a total of four prestigious awards at the Global Banking and Finance Review Award 2015, including 'Best Investment Banking Company Sri Lanka', 'Best Investment Banking Solutions Provider Sri Lanka', 'Best New Asset Management Company Sri Lanka', and 'Fastest Growing Unit Trust Manager Sri Lanka'. The securing of these leading industry awards affords CAL a clear indication of the strength of its foundation; a factor that lends great confidence in the continuous pursuit of success.
CAL's progression thus far has been primarily shaped by its focus on strengthening its vibrant knowledge environment allowing for superior market expertise, as well as cultivating an in-depth understanding of its clients in nurturing long-term bonds. These two pillars which are fundamental to their approach, in combination with their incorporation of industry best-practices in key investment banking areas, ensure that CAL's ambition of being 'The No. 01 Investment bank in Frontier Markets' is constantly in sight.
CAL and where we're headed
Our CEO, Ajith Fernando, speaks on CAL's evolution so far and what sets us apart as an investment bank. A thought-leader in the investment banking industry with over three decades of experience in Sri Lankan capital markets, Ajith Fernando is of the view that CAL is perfectly positioned to handle the dynamism of the country's growing financial market landscape.