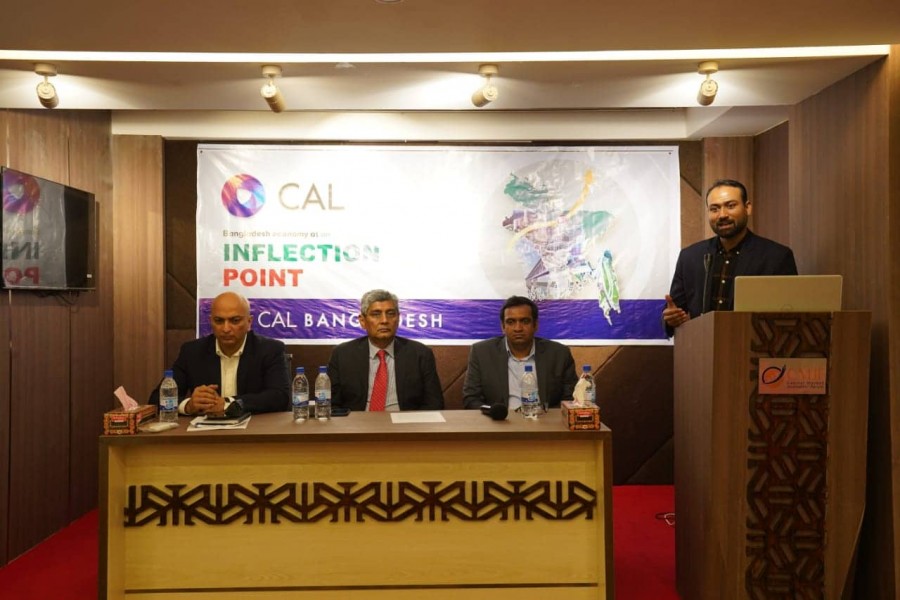 CAL Bangladesh, a newly established and first joint-venture foreign brokerage firm in Bangladesh, has announced its plan of providing research-based investment services to investors and stock market.
The company's top officials unveiled their business plan at a press briefing held at the auditorium of Capital Market Journalists' Forum (CMJF) in the capital Dhaka on Wednesday.
"CAL Bangladesh wants to go beyond the traditional brokerage business and add a new dimension to the stock market services," said Ajith Fernando, CEO of the CAL Group.
Apart from providing brokerage services, the company aims to provide the services of merchant banking and preparations are going, he said.
Ahmed Raihan Shamsi, director of the CAL Bangladesh, Deshan Pushparajah, managing director, Rajesh Saha, CEO, Mohsin Kabir COO, and Ahmed Omar Siddique, head of research, were present at the press conference.
CAL Bangladesh is a concern of CAL group. CAL is a leading Frontier Markets Investment Bank incorporated in the UAE with its roots in Sri Lanka.
CAL Bangladesh earlier received trading rights entitlement certificate (TREC) from Dhaka Stock Exchange (DSE) to conduct stock market operations in line with the regulatory approval.
The company's director Raihan Shamsi said their company has 22 years of experience in the global frontier market and wants to make a new contribution to the capital market of Bangladesh.
"By starting this business, it will be able to attract foreign investors in the capital market along with increasing the reputation or brand image of Bangladesh and attracting foreign investments," Mr Shamsi said.
In response to a question regarding any impact of their country's economic crisis on the company's operations, the CAL Group's CEO Mr Fernando said most of the companies in Sri Lanka are doing very well.
"The second thing is that our company first started operations in Dubai and the investment in Bangladesh is coming from Dubai," Fernanco said and spoke about the knowledge of their company.
Echoing Fernando, Mr Shamsi also stressed on experts and experience of their company.
At the programme, the CAL Bangladesh officials made two presentations on the economic prospects of Bangladesh.
Deshan Pushparajah, director of CAL Bangladesh, said CAL expects Bangladesh's per capita GDP to reach US$ 4,000+ by 2026, making Bangladesh a high-middle-income country following a similar path to its Southeast Asian counterparts.
He said Bangladesh's economy has followed the same path as Malaysia, Thailand and Singapore in reaching its per capita GDP of US$ 2,400+.
Ahmed Omar Siddique, said that at present, both developing and developed economies are facing macroeconomic challenges posed by the pressures of rising global inflation.
Nevertheless, in the long run, Bangladesh's economy is expected to continue to grow.
#cal #bangladesh #calresearch