BEFORE COVID-19, INVESTMENT BANK CAPITAL ALLIANCE BUILT AN IN-HOUSE TECHNOLOGY STACK TO DEMOCRATISE THE CAPITAL MARKET.
When investors increasingly demanded to be able to subscribe for IPOs digitally this year, Capital Alliance (CAL) was quick off the blocks allowing investors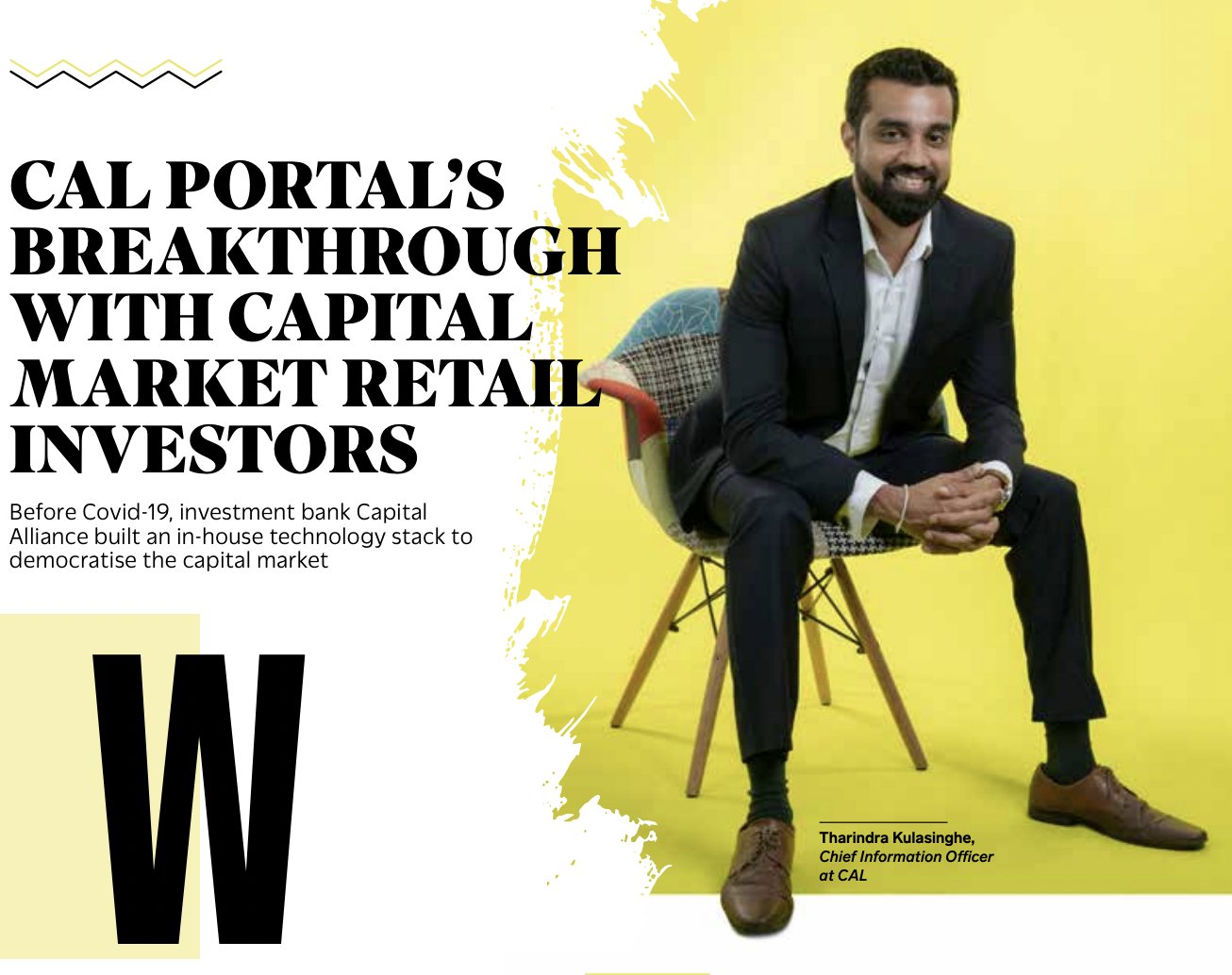 to digitally subscribe to IPOs managed by CAL via its homegrown digital platform CAL Portal. A majority of those subscribing turned out to be retail investors and not the usual high networths or institutions. Since the outbreak of Covid-19, the CAL Portal user base has nearly tripled, and most users are below 35 years. Encouraging signs that CAL's tech strategy was working.
Tharindra Kulasinghe, Chief Information Officer at CAL, tells us how the investment bank built an in-house technology stack to democratise capital market products and services for growth and overseas expansion.
How is digital technology shaping the financial services industry, especially post-Covid?
Digital technology has had a profound impact on financial services globally. In Sri Lanka, banks and other financial institutions invested in digital platforms and delivery channels to offer clients better access to seamless services. However, the consumer uptake was not encouraging for various reasons, including socio-cultural factors. That all changed with Covid-19. The lockdowns and other movement restrictions compelled people to access banking and other financial services online on their desktops or mobile phones. Importantly, what also happened was that people experienced first-hand just how liberating the experience can be, and the floodgates opened.
Today, more people are becoming financially savvy and looking for alternative investment opportunities amidst the unfolding economic challenges. The entire financial services industry is racing to keep pace with the growing demand for digital services. Also, regulatory initiatives such as e-signatures and video KYC accelerated advancement in fintechs, leading to better digital products.
At CAL, we had patiently waited for this shift to happen because we were ready for it.
What is the CAL approach to technology?
At CAL, one of our core values is to use technology as one of the primary drivers of the business. Whatever business endeavour or objective we have, we use technology as an enabler: whether it is giving customers greater on-demand visibility of their investments or providing better customer service or ensuring that CAL maintains its exceptional operational performance.
Around five years ago, we embarked on a digital transformation journey because we saw technology as a great enabler and driver of growth. We wanted to democratise finance and grow our reach in the country and overseas by building leaner and efficient operations without incurring massive costs to open and operate branches and expand the workforce.
Instead, we deliberately took the technology route.
We have invested considerably to build in-house technology capabilities over the years. We have a dedicated tech team at CAL pushing the boundaries of innovation and R&D. Partnerships with leading global firms such as AWS and Microsoft helped us build a technology stack that serves our objectives and give us a competitive edge. We moved into cloud technology, deployed a cutting edge CRM platform, robotic process automation, and built our own data analytics platform and a digital investment banking product called CAL Portal long before Covid-19 and the digital boom in its wake. Decision-making is data-led, and our advanced analytics capabilities allow us to figure out market behaviour, conditions, and trends and use data to give our customers the performance they expect and better service.
Can you tell us more about CAL Portal and how it is performing?
Since the pandemic, CAL Portal users have grown threefold, and we continue to see a rapid escalation of the number of news users. A customer can invest in our unit trust funds online and monitor and manage their investments via CAL Portal. There is more. They can also access award-winning market research from CAL Research, track private wealth management portfolios, and subscribe to IPOs digitally. Recently, the capital market regulator enabled IPOs to allow investors to apply digitally, and several IPOs have done so.
CAL had the technology to facilitate them, marking a digital transformation milestone for capital markets in Sri Lanka. The convenient, easy to use workflow enables users to complete applications digitally in less than 5 minutes on their laptops, mobile phones, or tablet.
CAL Portal, built with the latest technologies, handled over 200 IPO applications an hour. CAL Portal is secure and has OTP and digital signature technology for a seamless customer experience. Customers who subscribed to these IPOs via CAL Portal can also sign up for CAL Unit Trust Funds without the hassle and enjoy our digital experience. Our customers can expect more digital capital market products and services – that is our commitment.
We processed over 7,000 digital IPO subscriptions totalling Rs1.2 billion for three IPOs. Among them, the Capital Alliance Limited IPO attracted around 4,700 digital applications, and over 80% of these were subscriptions valued at less than Rs100,000, demonstrating encouraging progress in our drive to democratise capital markets. These are retail investors, not your usual high net worth and institutional investors, so the shift is happening. More people want to invest in capital markets and do it digitally.
As the CIO at CAL, what do you envision for the future?
We have iterated our product over the last few years. The user experience is much better, and we have brought in digital signature and video KYC capabilities and gave investors better visibility over their investment portfolios. We are trying to bring in more and more products like the IPOs and the investment products that are accessible through the portal and provide a better user experience for the customer.
Our technology strategy hinges on an underlying vision to be global, the number one investment bank in frontier markets. We recently started operations in Bangladesh and are looking at expanding to other countries soon.
Staying true to our fundamental vision of democratizing access to financial and capital market products, we will continue to push the boundaries of innovation and provide more of our services digitally, ensure good user experiences and drive value to our customers.